Driving Test Success Hazard Perception Download Edition
IDEAL FOR LAST MINUTE HAZARD PERCEPTION TEST REVISION
for Car Drivers /Motorcyclists /LGV Drivers /PCV Drivers /ADIs/Trainee ADIs
Pass your Hazard Perception Test with the UK's Best Selling Driving Test Software Brand!
Download Driving Test Success Hazard Perception direct to your PC or laptop and gain the vital experience and confidence you need to pass the Hazard Perception part of the Theory Test.
Practise interactive video clips as many times as you like.
Sit unlimited mock tests simulating exam conditions.
All the clips are filmed from outside the car just like the real test.
Review each clip with a timeline to discover where the hazard occurred, and where the maximum score could have been achieved.
Track your performance over time using detailed progress reports.
Download NOW Special Price: £10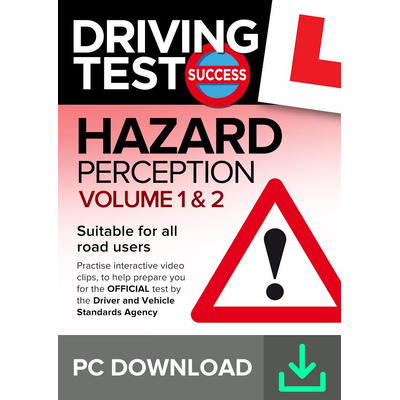 Essential training for:
Car Drivers
Motorcyclists
LGV Drivers
PCV Drivers
ADIs/Trainee ADIs
LGV Registered Drivers
"Focus Multimedia produce the best driving test software available."
Approved Driving Instructor News
Please note
this Software is
Not MAC compatible
Minimum System Requirements
If you have purchased Driving Test Success Hazard Theory Download Edition and are experiencing problems
Click Here
The Official Highway Code ©2007 Crown Copyright. Reproduced under the terms of the Open Government Licence. Crown Copyright material has been reproduced by permission of the Driving Standards Agency, which does not accept any responsibility for the accuracy of the reproduction.
---
SHARE THIS PAGE
---